Over 3,300 Pages of Classic Ads:
What has been will be again
What has been done will be done again
There is nothing new
under the sun
Let that sink in for a moment.
There is nothing new under the sun!
Therefore, if you are …
Seeking inspiration for your next marketing campaign or …
Looking for new business ideas …
Then, unless you are a super achieving 18 year old chasing a 'masters' in Computer Science, who believes that books and other printed material are 'dead', then join with us and journey back in time.
For this is where you will find true inspiration.
Pick up old magazines from 1900-1990 – Life / Time / Popular Mechanics / Popular Science / National Geographic / Colliers / Cosmopolitan and Reader's Digest – to name just a few.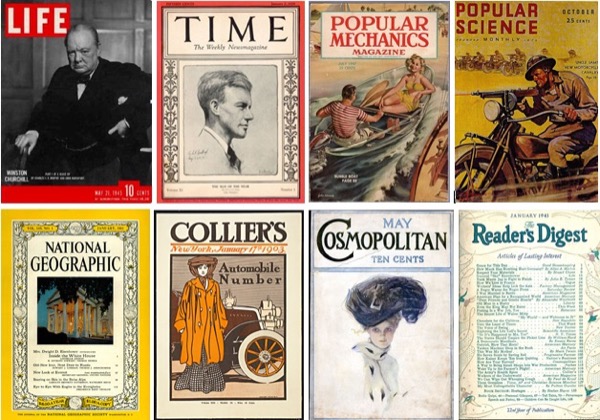 Read the stories.
You will find the articles wonderfully engaging and totally fascinating.
Now look at the ads.
Look at how they flow, the way in which they draw you in, engage you - often with a story.
Look at these two examples from 1917, the first by Max Sackheim for the American Commerce Association and the second from Bruce Barton for the Alexander Hamilton Institute.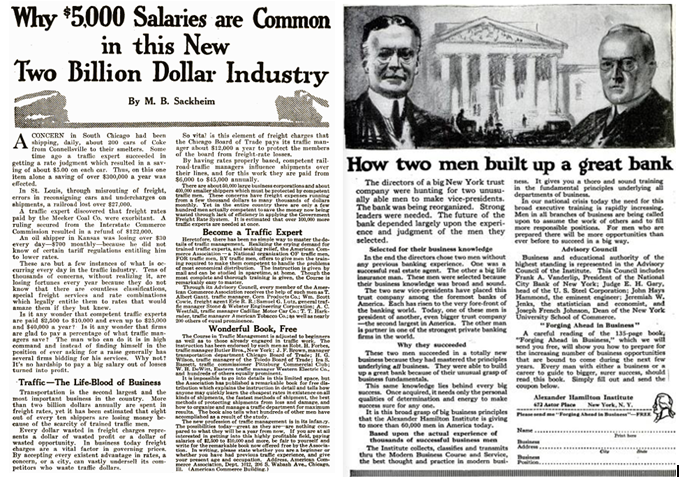 You can see the full sized ads in Volume 1 of Classic Ads on pages 384 and 430.

And talking of Bruce Barton (one of the most influential men ever in American advertising), who can forget another classic ad of his, again for the Alexander Hamilton Institute.
The Story of Two Men Who Fought in the Civil War
It is the tale of two men, starting out equal in life, coming from a small town in Massachusetts, having the same education, going off to the Civil War and then embarking on their respective careers. One man accumulates a fortune and the other "spent his last years almost entirely dependent on his children for support."
The first man 'trained for opportunity after the war had finished' and the other 'merely drifted'. It was no coincidence that this ad appeared in 1919 soon after the end of WW1.
Barton was targeting the hundreds of thousands of returning American soldiers who would soon be looking for a path in life and his message (on behalf of the Alexander Hamilton Institute) was study, get a career, get a life or alternatively 'drift' your way through the coming years and end up broke – just like the man in the ad.
The contrast could not have been starker.
And it was this ad which over half a century later gave Martin Conroy the idea for one of the most successful sales letters ever written – a two page letter for the Wall Street Journal that again tells the story of two men … one successful, one not. It ran from 1975 to 2003 and is said to have generated $2 billion in subscription revenue over the 28 years it ran. Let that sink in - TWO BILLION Dollars from one 2 page letter, not two million dollars!
And as Drayton Bird says in the video below, The Wall Street Journal ad in turn inspired a couple of his contacts to produce an insurance letter which brought in over $5 million. Small change by comparison, but hardly insignificant!
In other words, "There is nothing new under the sun".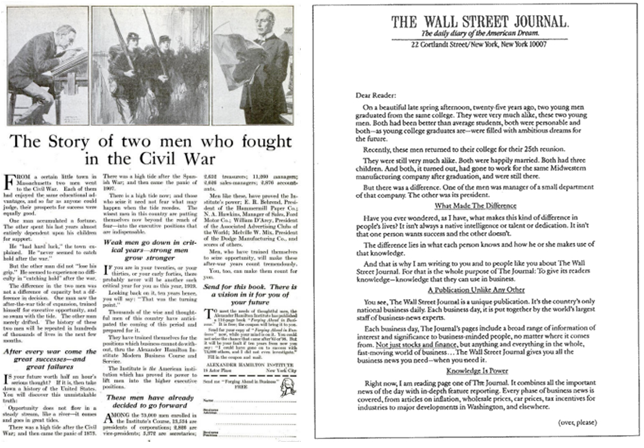 Most advertising people are of the opinion that this much adapted advertisement all started with Bruce Barton's Civil War ad for the Alexander Hamilton Institute.
But did it?
Any number of ads from this era used the theme of achieving success through education and occasionally contrasting the success of one person against someone who fails to seize the opportunity.
Maybe Barton got his idea from an ad that appeared in a 1912 issue of Popular Mechanics for the Palmer School of Chiropractic, still going strong well over 100 years later.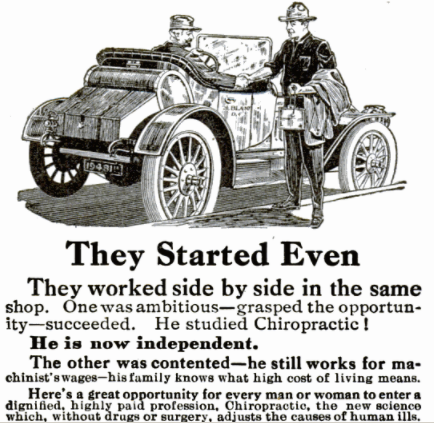 Judge for yourself!
You'll find the full ad reproduced on Page 229 of Classic Ads, Volume 1.

It is no coincidence that some of the top writers of the 20th Century were also advertising copywriters before becoming renowned novelists.
People like F. Scott Fitzgerald, Salman Rushdie, Dorothy Sayers, Joseph Heller and William Burroughs.
One of the most famous ads of all time was written by John Caples for the US School of Music in 1926.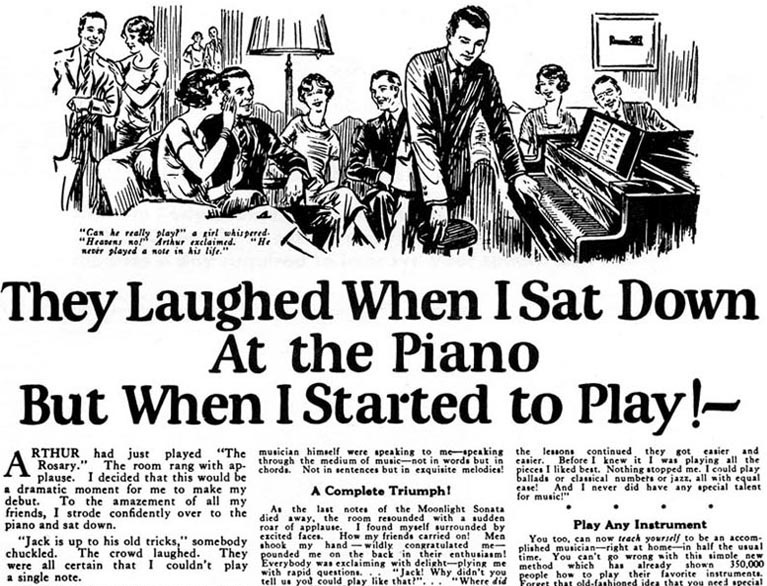 It was an extremely successful advertisement and ran for some years. You can see the full ad on Page 11, Volume 2 of Classic Ads (1920-1929).
It was also one of the most copied ads ever, right up till this day, with all versions using the theme 'They laughed'. Here are some examples (real and spoof):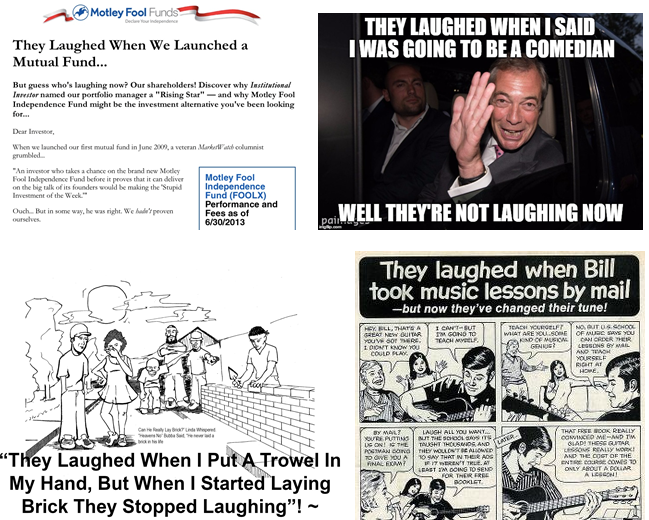 It should be noted that John Caples was not above adapting his own ads for other clients as in the example below which he produced a year later in 1927 for Doubleday.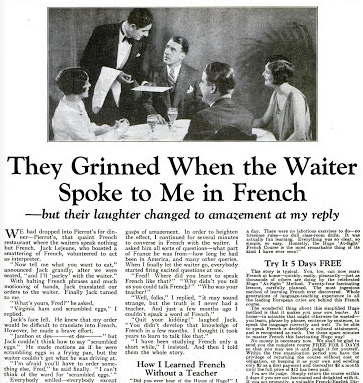 Caples says 'They Grinned When the Waiter' and then in the sub-head makes a transposition by saying 'but their laughter changed to amazement'. This seems odd, since to me 'Grinning' is a broad smile and is NOISELESS whereas 'Laughter' involves noise, often lots of it. Maybe he should have said 'but their smirks changed to amazement at my reply.' It doesn't matter, for doubtless the ad worked, Caples being Caples!
This then is the value of Classic Ads. You can peruse thousands of print ads covering the period 1900-1969 from which you will gain inspiration and ideas – not just ideas for your ad campaigns and marketing but possibly even for completely new businesses.
Just one idea gained from one headline could quite easily bring you untold riches. For example:
An idea re-adapted produced millions of dollars for Gary Halbert (see below).
The Civil War ad brought up to date generated 2 Billion dollars in subscription revenue for The Wall Street Journal.
The Wall Street Journal ad further adapted generated $5 million for one of Drayton Bird's contacts.
Look carefully at the ads.
Look at their layout and design.
Look at the impact that many of these ads had. They just had to stand out.
This was because in those days magazines were packed cover to cover with advertising.
These were the days before TV, the internet and social media.
Virtually all advertising was in print and in the 1930s radio was just gaining in popularity. There was no TV advertising before the early 1940s.
Study these old ads and …
You may learn something.
You might just come up with a new business idea ...
Or an idea for marketing an existing product or service ...
Gary Halbert did just that.
He came up with a twist on an old idea …
And made $$$ millions based on an ad that first appeared in LIFE magazine (November 30, 1936).
He said he got his idea from a little old lady who was selling family histories by mail order. Be that as it may.
But where did she get it from?
Was it from this ad that appeared in LIFE Magazine over 80 years ago?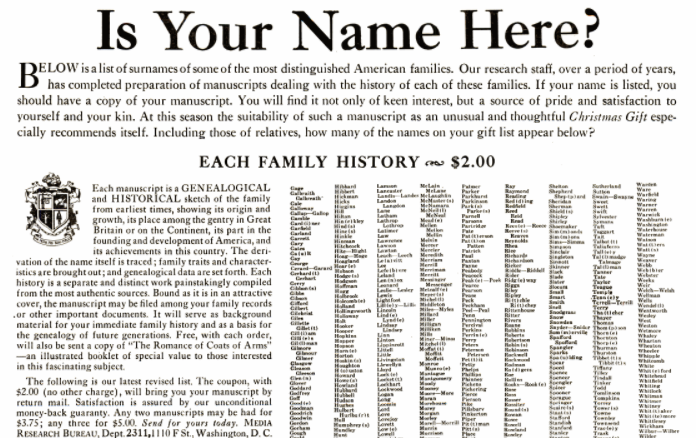 You will find the whole ad on Page 129 of Volume 3 of Classic Ads.
Goods ideas from times past are NOT the prerogative of one person living in a a particular era. They are timeless.

Here are just a few more examples of the informative and fascinating advertising you'll find in Classic Ads.
Some ads are clearly ahead of their time such as the "Swear off Tobacco" ad from the 1920s which acknowledges the addictive nature of nicotine. And the woman's vibrator ad from 1907, although presented as a health aid, clearly brought other benefits. As the copy says 'This Wonderful Little Vibrator relieves All Suffering'.
You will find it on Page 89 of Volume 1.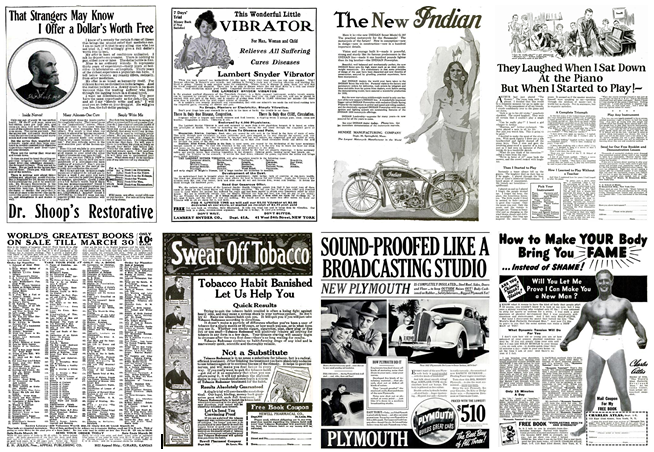 "Properly exploited, one good idea, while walking on the beach, is worth a lifetime of hard work." The late Gary Halbert – The Gary Halbert Letter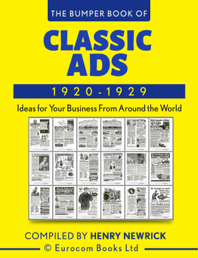 In order to help you on the way we've produced Classic Ads
Covering 70 years of print advertising from 1900-1969.
The books (there are 6 in the series) contain thousands of ads on a wide range of consumer (and business) products & services.
Many were written by the great advertising legends from times gone by – people like John Caples, Bruce Barton, Claude Hopkins, Bill Bernbach, David Ogilvy, Eugene Schwartz, and many, many others.
A great ad written in 1920 may spark an idea that enables you to create a winning campaign 100 years later. Bruce Barton wrote an ad for the Alexander Hamilton Institute that appeared in 1919, which subsequently became the basis for The Wall Street Journal Ad in the 1970s. And even Barton got his idea from one that appeared in the early 1900s.
The Wall Street Journal ad then spawned another very successful ad just a few years later for an insurance company. This is referred to in the video below featuring advertising legend, Drayton Bird.
Sure, the media may evolve and change. But human nature does not.
It's been the same since time began.
See what Drayton Bird, the godfather of direct marketing and author of Commonsense Direct Marketing has to say about Classic Ads.
"I really recommend these books. Find ideas and copy them. Just steal! Bumper Books are a priceless asset." Drayton Bird – Drayton Bird Associates (and author of Commonsense Direct Marketing)
To view, click on either the image, or the link below it
Classic Ads come in 6 separate volumes covering the period 1900–1969. No single volume has less than 500 pages and indeed Volume 2 (1920-1929) runs to 625 pages. In total all 6 volumes come to more than 3,300 pages spanning 70 years of print advertising.
"For the copywriter... in need of fodder for the quench-less hunger of "the swipe file" -- why scavenge rubble for morsels... when you can be expertly-guided to a banquet -- and gorge the abundance? Bumper Books is THAT feast... and the incomparable Henry Newrick is your expert guide." Keita Hopkinson - copywriter
On our original site Classic Ads were priced at US$79.95 per volume, reducing to $47.97 after an 'Action Taker' 40% discount was applied.
On this site we have an even lower price of just US$37.50 per volume.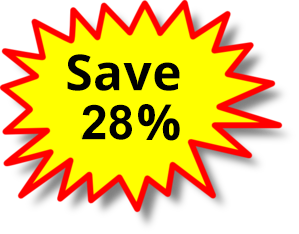 Bought individually the total cost of all 6 volumes is a very reasonable $225. However when you purchase the entire set you pay only $162. This represents a further discount of 28% on the already low price, working out at just $27.00 per book. When you order the complete set you also receive:
3 Great Marketing Books -
FREE
Order the complete set of Classic Ads, ensuring that the Promo Code box below is completed, and we will send you a special bonus of 3 Great Marketing Books completely free of charge. They will come to you as PDF files. Again, the ideas and information imparted by these three greats, if implemented, could easily return your small investment a thousand times over.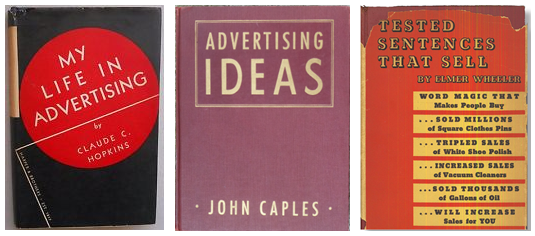 My Life in Advertising – Claude Hopkins
Claude Hopkins was one of the first great admen. Some of the notable clients for whom he wrote ads include Bissell Carpet Cleaners, Goodyear Tires, Liquizone Germicide, Palmolive Soap, Pepsodent Toothpaste, Quaker Oats, Schlitz Beer, Studebaker, Van Camp Pork & Beans.
Many of these brands he took from virtually nowhere to the point where they became household names, not just in the USA but in many cases, around the world.
His work for Schlitz remains a classic study in marketing and the principles are just as relevant today as they were over 100 years ago.
Advertising Ideas – John Caples
John Caples (with whom I once had the pleasure of speaking) was another great adman. He spent most of his working life with BBDO and during the course of his long career he wrote 6 books on advertising principles and what worked (and what didn't).
His most famous ad was "They Laughed When I Sat Down at the Piano" for the US School of Music ran for many years and was much copied. Other notable clients that Caples wrote for included the Alexander Hamilton Institute, Goodrich Tires, Du Pont, General Electric, Lever Brothers, Phoenix Mutual, U.S. Navy, and U.S. Steel.
He died in 1990 at the age of 90 and was working until very late in life. The annual Caples Awards are named after him.
Tested Sentences That Sell – Elmer Wheeler
Elmer Wheeler is best known for his little aphorisms such as 'Don't just say it, Telegraph it" and "Sell the Sizzle, not the Steak".
He was not so much an Adman but more of a sales trainer. But the principles his organisation developed for sales teams throughout the US based on countless tests of establishing what works and what doesn't are just as applicable to the advertising industry. After all, it was John E Kennedy who first defined advertising as 'Salesmanship in Print'.
You can view some early movies of Wheeler running his sales courses on YouTube. He authored numerous books on sales of which 'Tested Sentences' is his most famous.
Complete set on USB Stick – posted

FREE

anywhere in the world
When you order the complete set of Classic Ads and supply the Promo Code not only do you get the 3 bonus books above but we also send you everything on a USB Stick airmailed free of charge anywhere in the world.
Time Payment
– 3 Pay Option – $54 down - No interest
We know that in today's world money can be a bit tight. If you really want the 6 volume set of Classic Ads and the 3 bonus books plus time to pay then we'll allow you to pay (through Paypal) over 3 months, interest free. Nothing could be fairer than that.
Not only will you receive the download links generally within 24 hours of ordering but we'll also airmail the USB stick with all books, anywhere in the world, completely free of charge.
TO ORDER
Simply go to the Order Form below and mark the volume(s) you want before pressing the SUBMIT button.
If you would like all 6 books at the heavily discounted price of US$162 ($27.00 book) then tick the box marked $162.
TEST IF UNSURE
If you are unsure whether to order the whole set or if this is the right product for you, then accept our risk free guarantee. Just order the book of your choice ($37.50) and a download link will be sent to you within 24 hours for electronic delivery. If you are not absolutely delighted then let us know within 90 days and we'll refund your payment in full. You may of course keep the book you ordered. If you then want to order the remaining volumes just come back to this page and order the complete set for $162.00. Naturally, the guarantee extends to one book only and not the complete set – so if in doubt, test first. I might add that we've never once had a refund request.
"Just one half decent idea gained from using these books, could pay for itself a thousand times over." Henry Newrick – Team Group UK
ORDER FORM